Golden Scooters Has Your Ticket to Ride
Are you ready for the ride of your life? Hop aboard one of Golden's four lines of scooters, and discover a new-found sense of freedom. One of our models will give you the right combination of size, weight, portability and accessories. All provide the industry's highest levels of stability, dependability, performance and comfort.
Pace Medical Equipment & Supplies takes all the worry out of purchasing a scooter. We confidently stand behind all of Golden's products and provide you with the best warranties in the industry. Test drive the industry's most comprehensive line of consumer scooters today!


The Buzzaround XL offers more standard features to make your riding experience better than ever. Featuring a wrap around Delta Tiller, a new LED battery gauge, and a new ultra bright LED angle-adjustable headlight, it is also longer to offer more foot room, with a great turning radius. The Buzzaround XL disassembles in seconds with just 4 easy steps making transporting it from one destination to another a breeze.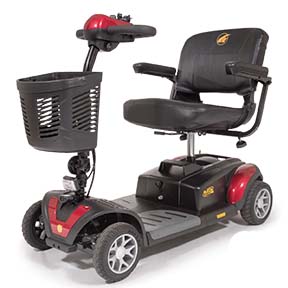 Enjoy the best of both worlds with the LiteRider™ scooter — a full-size scooter with all of the benefits of a compact, portable scooter! The LiteRider comes standard with a Delta tiller and a large stadium-style seat with adjustable armrests. With a 300 lb. weight capacity, the LiteRider can be quickly and wirelessly disassembled for transport or storage.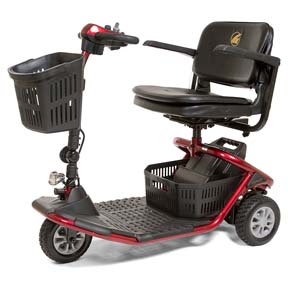 Companion scooters are the most advanced scooters available today! More standard features than any other scooter: a Delta tiller for comfortable hand placement with easy-to-use forward and reverse levers on long trips; the exclusive LiquiCell™ comfort-equipped seat that features six liquid-filled pads to improve comfort; a bright, adjustable LED headlight conveniently placed at the bottom of the tiller.
Brochure
Owner's Manual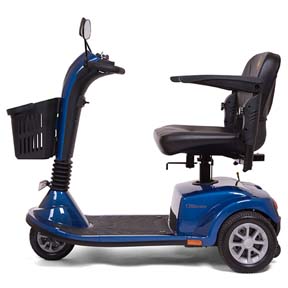 If you're looking for the ultimate POV for the great outdoors, the Golden Patriot should fit the bill! The Golden Patriot has more standard features for greater comfort and a higher level of performance. With its four-wheel, independent suspension, full lighting package and off road accessories, the Golden Patriot is sure to take you on many adventures!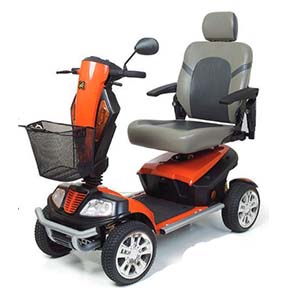 A four-wheel, heavy-duty scooter — the Avenger provides an impressive blend of rugged outdoor maneuverability and a smooth, comfortable ride over nature's most challenging terrains. The Avenger includes a standard front basket, a full lighting package and an extra roomy seat with an adjustable headrest. If power is what you need, the Avenger features a 500 lb. weight capacity and uses two NF-22 batteries that provide a range of up to 18 miles between charges.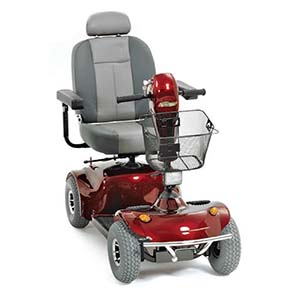 Talk to one of our scooter experts for a FREE, NO OBLIGATION scooter consultation. We accept MC/Visa/Discover cards.